Fire Fighting Foam Testing
---
Fire Fighting Foam Testing and Analysis ensures Ship's and crew safety and regulatory compliance of international norms.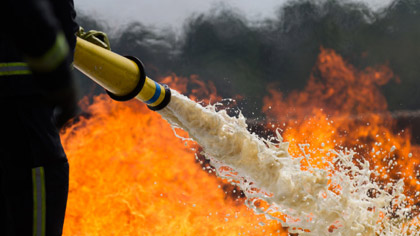 ATLAS provides the testing services in their laboratory for firefighting foam for analysis of low, medium and high expansion foam.
International Maritime Organisation, SOLAS and International safety organisations warrant that firefighting foam concentrates should be tested as per six monthly or on a yearly basis. The tests are carried out as per EN 1568 and ISO 7203 standard specifications.
Thus routine monitoring of Fire Fighting Foam Concentrates is required for cargo and passenger ships, barges, tankers, bulk carriers, tug boats, terminals, oil rigs and offshore platforms.
IMO MSC,1/Circ.131 & MSC Circ.670
The IMO (International Maritime Organization) has introduced two testing standards - IMO MSC.1/Circ.1312 and MSC Circ.670 - to ensure that foam used at sea is fit for purpose and takes into consideration performance with sea water induction and temperature conditioning (accelerated ageing).
The standards are now required by many maritime administrations and classification bodies for Foam concentrate to be used on board ships in international waters and have arisen as part of the implementation of the SOLAS Convention (Safety of Life at Sea).
IMO MSC.1/Circ.1312 sets out the testing protocols and acceptance criteria for the testing of Low Expansion Foam concentrates. For further information, please click here or visit the IMO website.
IMO MSC Circ.670 sets out the testing protocols and acceptance criteria for the testing of High Expansion foam concentrates. For further information, please click here or visit the IMO website.
NFPA 11 Standard for Low, Medium and High Expansion Foam
Following is a list of mechanical foam concentrates that are the most common types currently used:
Aqueous Film Forming Foam (AFFF)
Alcohol Resistant (AR-AFFF)
Synthetic – medium or high expansion types (detergent)
Class "A" Foam Concentrate
Wetting Agent
Fluoroprotein
Protein
Film Forming Fluoroprotein (FFFP)